No Obligation
Free Home Evaluation
Understanding the value of your home is a crucial step in determining if it is the right time to sell your home.
Yes I would like to find out the value of my home. Start here
We provide detailed, comprehensive, free home evaluations. These complimentary evaluations can help you find out the value of your home, the appreciation trends in your neighbourhood and other important statistics. We believe even if you are not considering selling your home today, that an annual market evaluation is an important undertaking in understanding your most significant financial asset.
We do not sell, trade, transfer, rent or exchange your personal information with anyone.
I look forward to hearing from you. Thank you.
---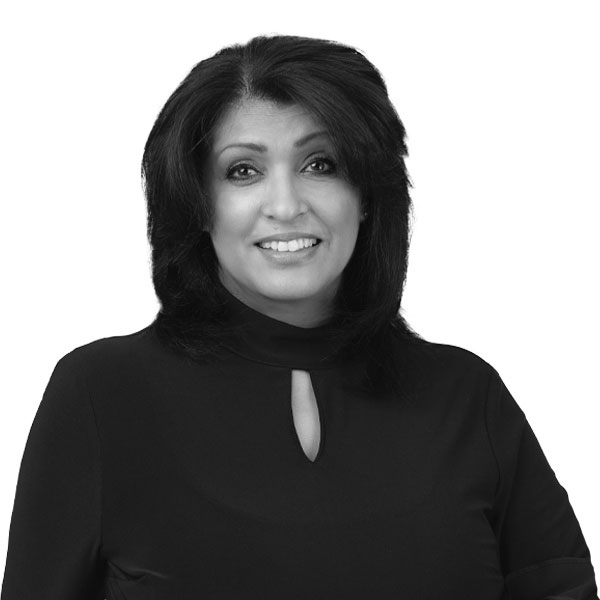 Sales Representative
Niki was born in England &  settled in Toronto, then Mississauga in the late 60's.  She has an effective combination of South Asian and mega -city tenacity.  Niki currently resides in Oakville and grew up in Mississauga.   She has been in the Real Estate Industry for 34 years.  Started at the age of 21 prior to that an Admin in the Real Estate Industry. Raised my kids as a Single Mom with many struggles but proud of Mom of 2 amazing adult kids, Selena and Nickolas, last but not least my Dog Buster.
Niki provides  the highest-quality service to all her clients.  This excellent service represents repeat customers and referrals is the basis of Niki's business.
Niki is forever grateful when starting out in Real Estate to have worked alongside us such accomplished mentors.
Niki has a vast knowledge of Pre-Construction, Re-Sale and Mortgage Financing. Whether you're buying or selling a home ( or both) your success hinges upon the expert advice and service Niki provides you  as your Real Estate Agent.
Niki is committed to providing her clients with professional services based  on her experience , knowledge and skills. Niki loves the real estate industry because helping people is what she does best.  Niki is very transparent of her goals through the complex real estate process to ensure it is seamless and to make it a positive experience that you won't forget.
Nik is an agent who specializes in the GTA local market and has the reputation for putting you the client, FIRST.  Anytime you want information on the market or are ready to buy or sell a property contact Niki directly.  There's no obligation!
Success to Niki is to have executed what I promised to any Client and achieved the planned end result of a life long relationship and to have a few laughs & tears  throughout the process.
Making it fun is much more memorable!
Niki has great Intuition, Empathy and a Big Heart!
Niki Sadiq-Singh was our realtor and was incredibly helpful in navigating us through this turbulent time in housing and mortgage market with ease. She is very knowledgeable and has years of experience. She's honest, personable, passionate and attentive. She understood our situation and was able to provide guidance through the whole process.
She has a very direct approach which worked for us. She was attentive to our questions but did not sugar coat anything and was able to explain the more complicated aspects of our situation and offer alternatives and solutions. With creeping interest rates and falling house prices she worked tirelessly to sell our house in this volatile market. She called us daily with updates, reassurances and solutions.
She also had various contacts in the industry which she was able to introduce us to – lawyers, mortgage broker, painters, movers and contractors. Which was incredibly helpful.
We were able to sell our house which we are SO grateful for and now we are in our dream house! I highly recommend Niki if you are buying a house. She was amazing!
- J Wong
Niki Sadiq-Singh is the Rockstar of Real Estate agents! After encountering several sub-par agents in our search for a rental in the Oakville area it was a chance meeting that introduced us to Niki and it turned out to be a welcome and refreshing experience. Niki is very professional and absolutely went the extra mile at every step, even after we closed a deal. She is very knowledgeable reference the local area and felt comfortable giving her comments and opinions that turned out to be spot on. Thank-you Niki!
- Dan
Searching for a condo could have been a very difficult process but Niki and the Sam McDadi real estate team made it possible. Niki did such an amazing job finding me exactly what i was looking for in such a short period of time. I would use her services over and over again and recommend her to anyone.
- Anthony Pillo
Niki Sadiq-Singh our agent was very thorough, professional and communicated every aspect of the sale. Would highly recommend her to anyone wishing to sell or buy a house.
- Graziano Prataviera
I had the best experience with Niki Sadiq-Singh and the Sam McDadi family! Moving can be such a daunting, complicated and stressful process and I couldn't have found a better person to guide me through it all. Niki, from day one, took me through every step to get my house ready to sell. Originally I was looking at a long period to prepare my place but decided to speed up my timeline by 6 months. My house was a bit of an older place and needed some work to spruce it up. Niki swung into action right away and helped me find various services on such short notice and got me unbelievable prices to get my house ready to be put on the market. She kept in contact with me almost everyday making sure I was good and how things were coming along. When something was falling behind schedule, she took immediate action. Niki took such a personal touch with everything that it made what is usually a stressful process seem effortless! The same is also true with the team she works with! Through her guidance and experience, my place sold in under 24 hours, way over asking! It truly was like a dream and she exceeded every expectations I had! I could never have gotten my place turned around so quickly without her! Niki is not just an amazing realtor, she is someone that I feel honoured to also now call a friend! My only complaint is that I have moved so far away (across the country), that I cannot see Niki more often as I am truly grateful for everything she did for me! I look forward to hopefully one day being able to work with her again! Thank you, Niki and Sam McDadi team!
- Ken Ziola
Niki handled the sale of my condo. Due to the massive workload at the hospital during COVID I had little time to be able to keep up with the sale and making sure all of the details were dealt with. Niki made sure all of those details were attended to with minimal input from me. She basically handled the sale from start to finish through some challenging issues.
I would recommend Niki to anyone without any reservation.
- Andrew Dooley
Niki did a great job. She helped me with decluttering and cleaning, staging. It was a very good experience even though very emotional to leave that house I loved in Oakville.
- DD
We were so pleased with our experience with Sam's team, in particular, Niki. She guided us through every step. She is a GREAT agent with lots of experience, knowledge and very professional. Thank you Niki!
- Saiqua W
When working with Niki Sadiq-Singh, you're getting more than a Realtor.
You're getting years of experience in buying, selling, financing, pre-construction, and even interior design!
She's worked in so many aspects of real estate, that you know you're in good hands whether buying or selling! You can't put a price on that, especially when making one of the biggest purchases in your life!
She treats your time and money like it's her own, so you know you'll be in good hands throughout this process.
Highly highly recommend Niki for all of your real estate needs.
- Taiyab Khaliq
Niki and Sam were very professional and reassuring. They sold our house in less than a day. Niki and Sam both did their homework on the area and market so they were very confident that our house would sell quickly.
- David T
My husband and I worked with Niki to sell our home. This was our first time selling with Niki and it made it so easy and so fast. Niki answered every question we had and walked us through the entire process so we knew what to expect. Niki gave us amazing advice and is incredibly professional. We are so happy our home sold so fast and we look forward to continuing working with Niki to find our next home!
- Clara P
My husband and I had the privilege of working with Niki to purchase our new home. What we thought was going to be a stressful experience, became so easy with Niki as our realtor. She found us the perfect home to raise our family in the perfect neighborhood. She is professional, diligent, caring and charismatic. I would highly recommend Niki to anyone seeking representation to buy or sell their property.
- Chris S & Clara P
Thank you Niki for all your help and advice. You've made the first time buying experience really simple, exciting and lots of laughs.
- S.A.