Now entering balanced terrain

In July 2016, a condo seeker could expect to outlay on average $406,865 for a unit in the GTA. Fast forward to July 2020, and that same condo seeker now has to shell out $635,778 That's an unbelievable jump of 56 per cent in average value. The question is, of course, why has the condo market seen such a huge jump in price in the last four years?
Home prices are dictated by demand, and demand is principally a function of population growth. GTA's population has grown by 100,000 people per year. It is now the fastest growing metropolitan area in Canada and the U.S. The price of a detached home has always been considerably higher than that of a condo apartment. More recently, it has hit a price point largely out of reach to many, which makes condos attractive to newcomers and millennials.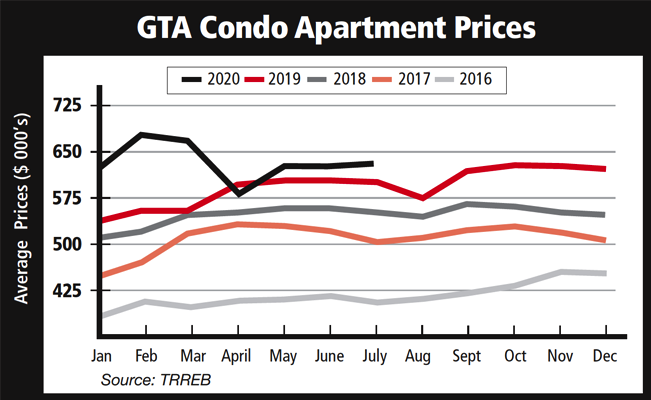 It is estimated that by 2030 one million new faces will increase the GTA's population to eight million. But, how will COVID impact immigration going forward? There will be an impact but likely not enough to hurt the resale market. The Conference Board of Canada estimates the number of people coming into the GTA will drop from approximately 100,000 to 65,000 due to the pandemic in 2020. There will still be enough people at the entry level wanting to get into the market out of fear of missing out on home ownership as prices continue to rise steadily. The other mainspring in the high demand upping the value of condos trend are the boomer generation and the proclivity of the millennials to live simply and maintenance free that condo living provides. Looking at July sales to new listings ratio of 45 percent, puts the GTA condo market into a more balanced terrain. Jason Mercer, TRREB's chief market analyst, believes the condo market activity and price growth going forward will depend on the region's economic recovery. "It will be important to watch the relationship between condominium apartment sales and new listings as we move through the second half of 2020. If economic recovery is sustained, the demand for condo apartments will improve," he says.